Plastic Bottle is projects made from old bleach bottles.Please make shure mom washes them out very good.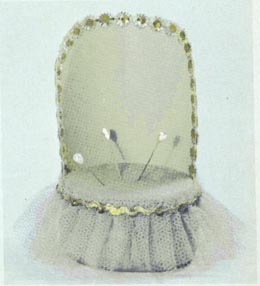 This Pin Cushion Chair is perfect to use in your bath or boudoir.
MATERIALS NEEDED :

Quart size bleach bottle

4" square Art Foam or felt

3" square White Foam -I-I/2" thick

White glue

Trim: net, rick rack, sequins, Pins gold paper lace

DIRECTIONS :

1 Cut bottom of bottle in a chair shape. The chair back should be about 6" high and 5" wide. Cut a circle of White Foam to fit inside the chair bottom. It should be about 3" in diameter. Cov-er the top of the White Foam with a piece of felt or Art Foam. Bring-edges down over the White Foam and pin to hold. Force this down inside the chair bottom. 2. Pin and glue a ruffle of net around the base of the chair. Trim with rick rack and sequins. Gold Paper Lace daisy strips may be glued all around edge of the chair back if desired.

Please stop by again..


Jacobs Page

you are #that has visited this sight .